ELDERCARE IS AN ESSENTIAL SERVICE
We have capacity and flexibility
Seniors Helping Seniors home care services brighten the lives of seniors who can benefit from a helping hand and a friendly smile. Our caregivers, who are seniors themselves, make life easier by providing compassionate care in the comfort of your home.
Our home care services help seniors to continue to live independent lives by taking care of day-to-day tasks that become challenging.  As health and personal requirements change, we're here to assist in the ways you find most helpful.
Contact an Office Near You
Our home care feels less like a service and more like getting a little help from your friends. Our caregivers are compassionate fellow seniors who are carefully matched to your specific needs, personality, and preferences.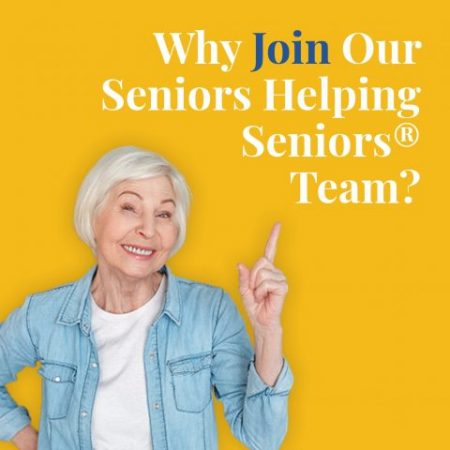 Our Seniors Helping Seniors services are …a way to give and to receive. Enjoy a flexible schedule, earn extra income, and lend a hand with a senior's daily living needs. 
Our Experienced Senior Care Services
We are the only home care provider that for twenty years has focused on hiring seniors to care for other seniors. Seniors Helping Seniors home care services are trusted by people who need support and by their families. We change people's lives. Are you ready to change yours?
"We have been using the services of Seniors Helping Seniors for over 4 years and have been really pleased with the care and attention the team have always given to Mum. Nothing has ever been too much trouble and the team have often gone above and beyond to ensure that Mum was comfortable in her own home for as long as possible.
They often shared lots of laughs and fun times as well as caring for her emotional and physical needs and it always left us reassured that she was in the best of hands.
They are a very flexible team and always willing to help out when additional support was required putting the needs of Mum first. A special thanks to Eileen and Simone who have been on the journey with Mum and become more than a companion to her, they have become good friends. A very caring exceptional company. "
Helen
"Our Mum is suffering from severe dementia and although we take on a lot of the care ourselves, we needed some extra help in the afternoons. The care from SHS has been outstanding. All the carers have been great with Mum, taking her for a drive, a cup of tea and a piece of cake when able which is her favourite thing to do.
We have received photo's of Mum from the carers of Mum while she is out and she always looks so happy. She can't wait to go with them! Teresa provided Mum with a photo book at Christmas – such a lovely thing to do and Mum treasures this. Tina has been great also - always there to help co-ordinate and offer support.
We really cannot fault the care received. We know Mum is in safe hands and Dad can have a rest while she is out. Highly recommended! Joanna, Karen and Nicola."
Isabel
Get in Touch with our Team
After more than 20 years in elderly care, we know how you would like to be treated!